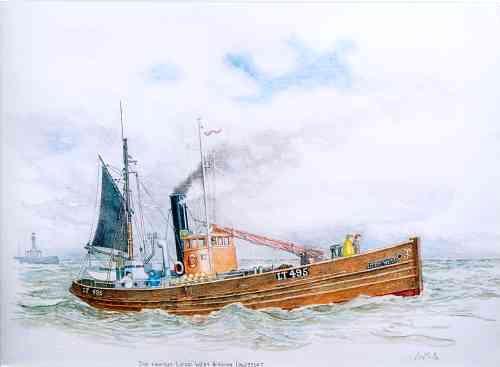 SOLD





This vessel was built in 1930 by Herd and McKenzie of Buckie for James West of Gardenstown. Built of larch on oak, she was just over 90 ft in length, with a 20 ft beam and an 18 inch triple expansion steam engine. Requisitioned for war service in 1940 as a patrol vessel, she was eventually bought in 1946 by Mitchell Bros. of Lowestoft, and re-registered as LT 495. Still in steam when all other fishing vessels had gone to diesel engines, she soldiered on until 1961, thus becoming the very last steam-driven fishing boat in Lowestoft, and the subject of much local interest.

Mr Parker of Lowestoft and East Suffolk Maritime Museum supplied much useful information; also present when my enquiries were first made in December 2003 was Mr Mitchell who is now 91, and remembers the old Lizzie West when he was much younger and actively engaged in the fishing industry.
---
Click the smaller pictures for a larger image.