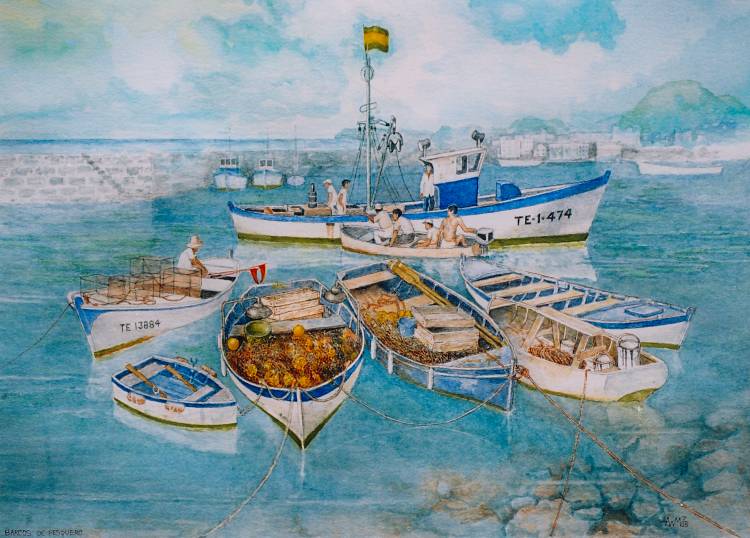 Price: £400
Prints available at £70.
From 1985 to 1996 we lived in Tenerife at Los Cristianos, close to the harbour. We got to know local people, were accepted as residentes. We bought our fish at the fish market on the harbour, or else we got fish from Geraldina who tramped the local streets with a big basket of fresh sardines on her head. Los Cristianos was just a fishing village then. Every day was a saint's day and you never knew which shops were closed and which were open. And you could get petrol on a Sunday - if you knew where to find the garage man.
The big local fishing boats had a grace and style which was almost yacht-like; big flared bows to keep the decks dry in a sea, deep continuous sheer returning to sharp canoe sterns, and dinky wheelhouses, usually painted blue and white and sometimes the crucifix hanging inside. Held by tradition, some of the older skippers became uneasy if a woman ventured too close to their boats.
But things were changing. There were now fish quotas under EU rules, rules which the locals regarded as lamentable. Spain, with the world's largest fishing fleet, was reduced to a mere flotilla. Clashes with Moroccan boats had occasionally become violent. Canadian and US protection vessels also became inhospitable. The old salts met every day in the plaza to discuss these latest insults to Spanish autonomy, for the two regions most heavily dependent on the fishing industry were the Canary Islands and Andalusia.