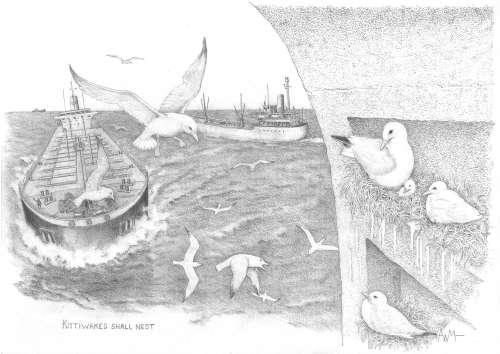 ...I cross the channel in fifty strides
producing energy from the tides
by simple well known exploitation
of spinning worlds - a power station,
my turbines using ebb and flow
produce more power than winds can blow.
Two decks for road and rail complete,
and one for wind-sports, bikes and feet.
On perches migrant birds will rest,
below decks kittiwakes shall nest.
You can walk it in four, bike it in three,
and do a run for charity...
From 1985 to 1996 Alan Mann lived in Tenerife at Los Cristianos; but how did his memories of those days lead him to this fantasy of a bridge across the Channel? Read the whole story from the beginning or read The Bridge in full.
---
I don't regard myself as an aviation artist; but I paint planes, boats and trains, and a bit of scenic stuff in between. "Why planes, boats and trains?" you may ask...
Thing is, my early boyhood centred on these marvellous objects. Planes were part of the essence of my beleaguered childhood because there was a terrific war on and some quaint pre-war kites were still flying, all wire and rigging-screws and doped fabric fuselage and polished wooden airscrews that turned so fast you couldn't see them - amazing to a small boy. Agile as birds those old biplanes represented a romantic era when flying was an art, before it became a science. Then came the dogfights; Spitfires and Hurricanes and dastardly Messerschmitts and Stukas with bombs and machine guns, and German prisoners of war who, amazingly, turned out to be just like us but with foreign accents.
The other half of my juvenile life was spent in boats, sailing boats and sometimes motorboats that went much faster and made marvellous noise. It was we Sea-Scouts who learned about war, hanging around the Home Guard, who were not proper soldiers because my Scoutmaster was in it and our local greengrocer who knew my Mum, but they patrolled the river and gravel workings in boats and had Lee-Enfield rifles with real bullets. The Under-officer in command of Grey Goose was a schoolteacher who could not resist the urge to teach even in full battle order. From him I learned how to dismantle a Bren gun.
But trains were very special. They were all steam driven in those days. Steam engines lived and breathed and hissed with wakening life as the pistons moved and those immense driving wheels began to turn; and the footplate, mounted like a pulpit, was holy ground to a small boy.
Childhood was an exciting time that marked my life with a permanent seal of approval. So I paint planes, boats and trains. And why not?
Read Alan Mann's thoughts about chimneys.
---
All paintings are pure watercolour on 140lb paper: modern water-based paints withstand strong light very well, but should be kept out of direct sunlight.
Paintings are sold rolled in tubes, and unframed.
Also available as high quality limited edition prints.
Enquiries to .
---